Glad to make my first post to the Cleveland etsy team :)
Thank you for having me.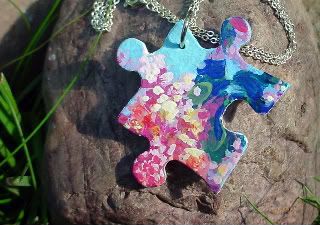 One original jigsaw puzzle pendant painting that connects to the artists piece.
I wear mine everyday and look forward to someone wearing a piece of this puzzle that interlocks with mine.
My piece is circled in pink, yours is in blue.
Fine art prints are available of this painting too.
Buy Now
see all the puzzle pendants
Wishing you a beautiful weekend
Rebecca
Rebecca Grantham.Com, email me at
contact(at)rebeccagrantham.com

e store

Modern Art Gifts Plein Air Cafe